Biodiversity
The Museum's biodiversity database holds over 1.9 Million species occurence records of animals, plants and fungi. Help improving the knowledge about the biodiversity in Luxembourg and become a naturalist.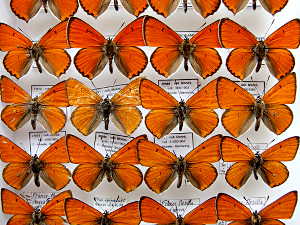 Collections
The Museum's collections comprise over 100,000 specimens of animals, plants, minerals and fossils.
You can browse our specimen collections on the Global Biodiversity Information Facility (GBIF) data portal.
Biodiversity in Luxembourg
Search and display the species observations of Luxembourg on a map.
Biodiversity Worldwide

 The Museum participates as Luxembourg's national node in the Global Biodiversity Information Facility (GBIF), an international open data infrastructure making biodiversity data provided by institutions from around the world accessible through a single portal.
DNA Barcode of life
The Museum's research center contributes to the international Barcode of Life project. The aim is to create an open database with DNA reference sequences for each species on Earth.